Prayer In The Home | Try Different Prayer Boxes
TRY DIFFERENT PRAYER BOXES
"God forbid that I should sin against the LORD in ceasing to pray for you"
(1 Samuel 12:23).
Jesus said in Mark 11:17: "My house will be called a house of prayer for all nations." Does your home belong to God? If so, your home will also be a house of prayer. Do people know that it is a house of prayer? Do your children recognize that prayer is the foundation of your home? Is it a committed part of everyday life?
In Above Rubies # 90, I wrote about the blessings of having a Prayer Box to help your children pray more effectively. Did you know you don't have to be limited to only one Prayer Box? You can make different boxes for different subjects. You can alternate them each week or use them according to the burden that is on your heart. Here are some ideas for Prayer Boxes you may like to have in your home.
In our home, we currently have eight prayer boxes. We don't use them all every time. We choose two prayer boxes at our morning devotions and two at our evening devotions. We always choose Our Family Prayer Box and choose one other. Here are the one we are currently using in our home:
1. OUR FAMILY PRAYER BOX

Every family needs this prayer box. On your prayer cards, write the names of each member of your family, plus extended family--grandparents, aunts, uncles, and cousins. For Christmas last year I made a Family Prayer Box for each family, new couple, or single living away from home. I color-coded, choosing a different colored card for each family.
I encouraged the families to not only pick out a card from their box each morning and evening as they enjoy Family Devotions together, but to keep the box on the table or in a conspicuous place, where everyone in the family can see it. Whenever someone passes the box, they can pick out a card, lift it up before the Lord, and pray for that person.
This is a wonderful way to keep our whole extended family bathed in prayer--everyone praying for one another. We are very much aware of God answering our prayers for one another.
2. OUR WORLD CHANGING PRAYER BOX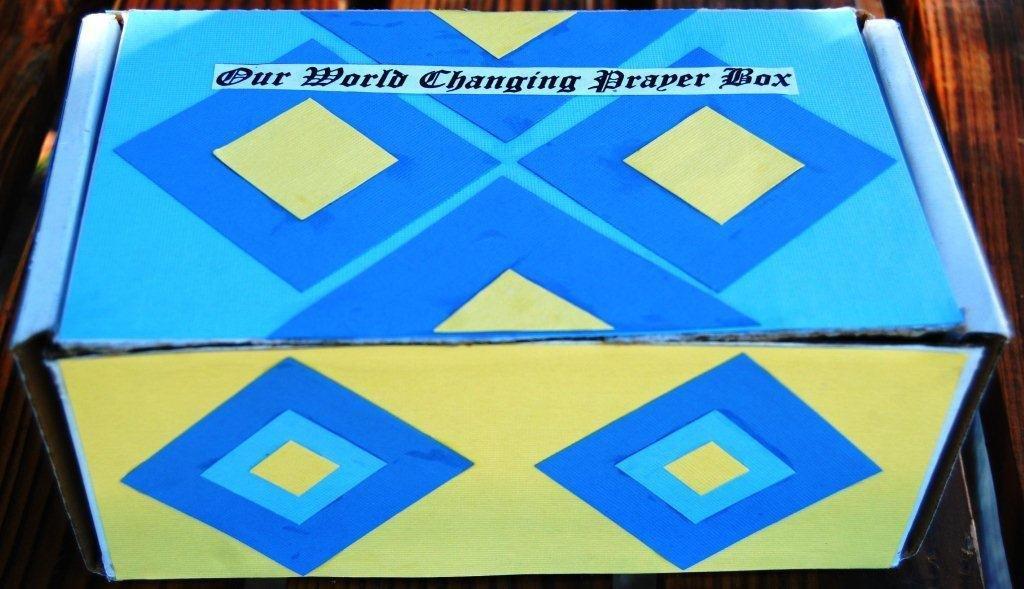 Write on your prayer cards the needs in the nation, international needs, missionaries you are praying for, and current needs that require prayer. At this time, we use this prayer box along with our Family Prayer Box each morning and evening. Therefore, each person takes two cards--one from Our Family Prayer Box and one from this box. There are so many urgent needs in the world at this time.
Proverbs 14:34 says: "Righteousness exalts a nation: but sin is a reproach to any people." Below you can check on an updated link for prayer needs for this nation and the world.
3. OUR PERSECUTED CHRISTIANS PRAYER BOX
This is such a powerful and biblical prayer box to use. There are so many countries persecuting Christians that it is hard to keep up with all the needs of the persecuted church around the world.
Your box will be fat with cards. There are 60 countries persecuting Christians. You may have to alternate these countries in your prayer box. As you research, you will become aware of many specific needs and people to pray for. Don't forget North Korea who persecute Christians more than any other country in the world.
How can we not pray every day for what is happening through ISIS in Iraq and Syria where Christians face beheadings, rapings, and cruelties beyond measure? No wonder Hebrews 13:3 tells us to pray for those being persecuted as though we were in prison with them and to feel their suffering as though we were suffering their pain in our own body. You will see a link below to find out more information.
4. OUR ISRAEL PRAYER BOX
You cannot be without this Prayer Box either. We are commanded to pray for the peace of Jerusalem (Psalm 122:6). And remember Isaiah 62: 6,7: "I have set watchmen upon thy walls, O Jerusalem, which shall never hold their peace day nor night: yet that make mention of the LORD, KEEP NOT SILENCE, And give him no rest, till he establish, and till he make Jerusalem a praise in the earth."
5. OUR NATIONAL PRAYER BOX
We pray for the needs in our nation. We pray for our president and the members of his cabinet. We pray against the evils of the nation such as abortion and homosexuality, etc. We pray for revival and great move of God in our nation. Proverbs 14:24 says: "Righteousness exalts a nation: but sin is a reproach to any people."
6. OUR MARRIAGE AND FAMILY RESTORATION PRAYER BOX
We pray for marriages and families that are going through difficulty or separation. We write their names on the cards and put them in this box. We pray for the restoration and strengthening of marriages.
7. OUR SALVATION AND HEALING PRAYER BOX
Ina this box, we place the names of those who need salvation and healing. We have many cards in this box too.
8. OUR COUNTRIES AND CAPITALS PRAYER BOX
We love to use this box. I write on cards the names of the most strategic capitals and countries of the world. This is also a good way for your children to get to know the capitals of the countries of the world and yet at the same time give them a vision to pray. I also write on the back of the card the name of the Prime Minister or President of that country so we can pray for him too. We are currently burdened for the great city of London that now has a Muslim Mayor! How is it that a Muslim Mayor now controls London?
The Scripture says that God beholds the nations of the world. We should also be watching over the nations to pray for them. Psalm 8:2 says: "Ask of me, and I shall give thee the heathen for thine inheritance, and the uttermost parts of the earth for thy possession."
The following are some other ideas for Prayer Boxes you may like to make. We have also used these from time to time.
9. OUR 10/40 WINDOW PRAYER BOX
The 10/40 Window is the rectangular area of North Africa, the Middle East, and Asia, approximately between 10 degrees north and 40 degrees north latitude. These countries include the majority of the world's Muslims, Hindus, and Buddhists--a high percentage of the least evangelized and unreached peoples with the Gospel.
It is also called THE LAND BETWEEN THE WALLS, the Great Wall of China and the Western Wall of Jerusalem. There are currently seven billion in the world and two-thirds of them live in this area of the world. Nine out of ten people in the 10/40 Window or The Land Between the Walls have never heard the gospel.
The persecution of Christians in the 10/40 Window has increased by 400 percent over the last 10 years.
These countries include:
Afghanistan, Albania, Algeria, Azerbaijan
Bahrain, Bangladesh, Benin, Bhutan, Brunei, Burkina Faso
Cambodia, Chad, China, Hong KongChina, Macau
Djibouti, East Timor, Egypt, Eritrea, Ethiopia
Gambia, Guinea, Guinea-Bissau, India, Indonesia, Iran, Iraq, Israel
Japan, Jordan, Kazakhstan, Kuwait, Kyrgyzstan
Laos, Lebanon, Libya
Malaysia, Maldives, Mali, Mauritania, Mongolia, Morocco, Myanmar (Burma)
Nepal, Niger, Nigeria, North Korea, Oman, Pakistan, Qatar
Saudi Arabia, Senegal, Somalia, Sri Lanka, Sudan, Syria
Taiwan, Tajikistan, Thailand, Tunisia, Turkey, Turkmenistan
United Arab Emirates, Uzbekistan, Vietnam,
West Bank / Gaza, Western Sahara, Yemen
Wow! Do you know where all these countries are situated? What a great project for you and your children to learn about each one and gradually add to your prayer box. It is a great way for your children to learn about these countries, to get a heart for missions at an early age, and to pray for the lost and the unreached peoples of the world.
10. OUR CHURCH FELLOWSHIP PRAYER BOX
Write cards of the different families in your church who need prayer and encouragement. This is also a lovely box to have and we have used it from time to time.
11. OUR NEIGHBORHOOD PRAYER BOX
Do you have a vision to reach out to your neighbors and community? The best way is to begin with prayer. Write cards for the neighbors you meet who you want to lead to Jesus. As you pray for them, God will show you how He wants you to reach out to them. Maybe He will inspire you to invite them over for a meal to show them God's love and what it's like to live in a Christian home.
12. OUR THANK YOU BOX
Our God is a prayer-hearing God. We constantly receive answers to prayer which we then put in Our Thank You Box. We are to come before God with prayer and THANKSGIVING. We should also be a grateful people and never cease to thank the Lord for all His goodness and answers to prayer. I think of the 10 lepers who Jesus healed and yet only on came back to thank Him. Let's never be guilty of being like the other nine.
BECOME A PRAYING FAMILY
Enlist your children to help make the Prayer Boxes you would like to use in your home--and also writing the cards. You can find old boxes and redecorate them. Children love doing this.
If you have young children, you will find it a good idea to use pictures of missionaries, a certain person you are praying for to be saved or healed, the kind of people who live in different countries and so on. Also places (pictures or maps of the countries you are praying for).
One mother of young and older children found a helpful idea. She wrote prayer needs on white cards for the adults and older children and more simple needs on colored cards for the younger children. The younger ones know which cards to choose with more appropriate prayers for them to pray.
Become a world-changing family as you pray for one another and the world. The greatest way to fight our enemies, the enemies against God and evil, is by prayer. Leviticus 26:7, 8 tells us that five people (that means a family of father, mother and three children) can tread down 100 enemies. One hundred people (that means only 20 families of five) can put 1,000 to flight! What could happen if every believing family (dads, moms, and children) began to faithfully pray every day for their nation and the world? What about families who have six, seven, eight, and more children around their table? What power they have as a family to influence the world.
PRAYING FAMILIES ARE WORLD-CHANGING FAMILIES!
NANCY CAMPBELL
Check out these links:
http://tinyurl.com/OurPrayerBox
http://tinyurl.com/IdeasForPrayerCards
http://www.worldwatchlist.us/world-watch-list-countries/
http://www.1040windowreporter.com/#!prayer-points/vnvdq

http://tinyurl.com/RecommendedLinks
http://tinyurl.com/PrayerInTheHome