Family Meal Table | Table Manners

TABLE MANNERS
It is important that our children understand table etiquette. Teach them to:
1 Wash their hands and brush their hair before coming to the table.
2. Be at the table on time, ready to give thanks together.
3. Don't grab food, but ask for it to be passed, e.g. "Andrew, you can you please pass the rice?" Use the person's name.
4. Don't take more food than is necessary so food is not wasted. Come back for more if they are they are still hungry.
5. Do not talk with a mouth full.
6. Do not lick their knife.
7. Do not slouch. Sit straight, keep chair close and elbows off the table. Elbows are allowed on the table between courses, but not while eating.
8. Do not have private conversations at the table. Everyone must share in the family conversation.
9. Always thank mother for the meal.
10. Stay seated at the table during the whole meal until the end of Family Devotions. Never get up and leave without asking, "May I please be excused."
Prepared by Nancy Campbell
www.aboverubies.org
Check out: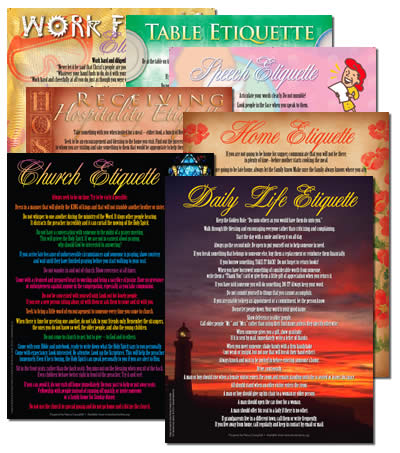 Etiquette Posters